­­License For Educational and non-profit organizations
Prodigal Daughter
(Mabel Valdiviezo; 2017, Peru/USA)
Prodigal Daughter is the inspiring story of a Latina woman who discovers a new path for life in the face of U.S. immigration policies, family isolation and trauma.
Ideal for classes and conferences on:
Immigration studies
Latin American Studies
Mental Health
Women's Studies
Art Therapy
Cultural Studies
Pre-Order Now
Note: A pre-release 45 minute version is available now. Final version will be shipped in 2017
Educational Package Includes:
DVD or streaming version of film
Subtitles in English/Spanish
Discussion guide
Educator License with Public Performance Rights (PPR)
DVD for Universities, Colleges & Institutions ($350) ORDER
Streaming License – 5 Years, Institutional ($350) ORDER
DVD, K-12 Classroom & Public Libraries ($100) ORDER
For availability, purchase orders or to pay by check, email Mabel Valdiviezo at haikufilms@gmail.com
Invite Filmmaker/subject Mabel Valdiviezo to your event, conference or classroom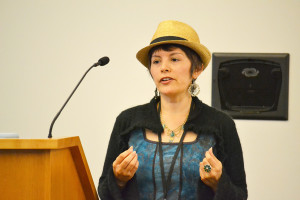 On a mission to empower women and immigrants, Mabel Valdiviezo is a filmmaker, visual artist and alumni of the Sundance Producers Conference who creates compelling films about gender, ethnic and cultural issues. She routinely gets standing ovations when speaking to audiences from San Francisco to Peru.
"Mabel is very 'at home' in front of an audience. She speaks from her heart, sharing her colorful story with deep sincerity, humility and compassion. One cannot help but feel both moved by the telling of her personal life experiences and inspired by her courage to empower others."
–Sahina, Founder, Pathways to Inner Peace
Add your name to our mailing list for updates on the DVD and screenings
Contribute to our Fundraising Campaign
More info / Questions:
haikufilms@gmail.com
415-335-3143